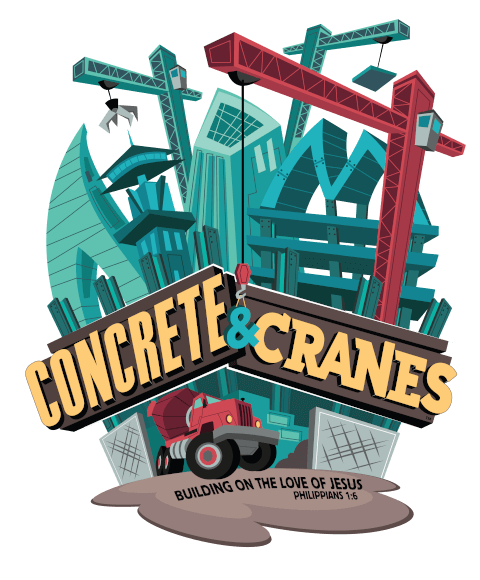 Grab your hard hat and tool bag!
As kids explore a world of concrete and cranes, rivets and rebar, bulldozers and backhoes, they will learn to build their faith on Jesus as they uncover the truth that He who began a good work will be faithful to carry it on to completion.
Theme Verse: I am sure of this, that he who started a good work in you will carry it on to completion until the day of Christ Jesus.  Philippians 1:6

Motto: Jesus! Our strong foundation!
Christ Connection: The foundation of the gospel is faith.  Jesus lived a perfect life and died the death we deserve.  By grace, God saves everyone who trusts in Jesus as Savior and Lord.
When: Sunday, August 02, 2020 from 1 to 5 pm
Biblical Content
Lesson 1: Foundation of Forgiveness
Bible Story: Paul's Redemption Acts 26:1-29
The Point: Jesus loves me regardless of my sin.
BONUS VERSE: But God proves his own love for us in that while we were still sinners, Christ died for us. Romans 5:8
Lesson 2: Foundation of Worth
Bible Story: Jesus Prayed in the Garden Matthew 26:36-46
The Point: Jesus chose to die for me.
BONUS VERSE: No one has greater love than this: to lay down his life for his friends. John 15:13
Lesson 3: Foundation of Promise
Bible Story: Jesus' Resurrection and Promise Matthew 28:1-10,16-20
The Point: Jesus will always love me.
BONUS VERSE: And remember, I am with you always, to the end of the age. Matthew 28:20b
Lesson 4: Foundation for Life
Bible Story: Wise and Foolish Builders Matthew 7:24-29
The Point: Jesus' love is the foundation for the rest of my life.
BONUS VERSE: But as for you, continue in what you have learned and firmly believed. You know those who taught you. 2 Timothy 3:14


Please Sign Up Today! Click here!