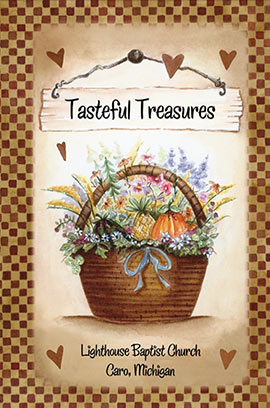 We are collecting recipes from our church people; favorite potluck dishes, family recipes, etc. The committee will be collecting, submitting, and organizing the recipes for the cookbook.
Cookbook Committee Members are:
Ann Priestly
Barb Tedford
Carrie McBride
Karen McBride
Tammy Sanchez
Donna Wester
There will be a box or basket at church to place the recipes in for the committee to collect and then submit to the publishing company via computer.
 Update: All 250 recipes have been typed and proofread! Tomorrow, 7/1/13, our cookbook will be submitted to Morris Press. The company will then prepare a proof of our cookbook for final review and approval. That should take about 30 days. I will keep you updated. - Karen McBride
 To be published in 2013 and ready for our November sale which is the weekend before Thanksgiving.
 Update 2018: We have a limited number of the "Tasteful Treasures" Cookbooks still available. Get your's now while supplies last.
To order send $10.00 (plus $2.00 shipping per book) to:
Lighthouse Baptist Church
1400 Cleaver Rd.
Caro, MI 48723
Order Online with Paypal: