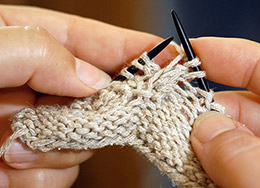 The Knitting Group at Lighthouse Baptist Church began about 7 years ago when 3 ladies met together to knit hats to meet a need in Caro.
More and more people joined the group and our ministry expanded to meet other needs. In the past we have crocheted bandages for a ministry in Africa, knit baby hats, chemo hats for cancer patients, foot warmers and heart monitor pouches for hospitals in Saginaw, shawls, hats, and lap blankets for a hospice group, and thousands of loomed hats for many organizations all over Michigan.
Our group today includes Ray, Joyce, Mary, Diane, Sarah, Jan, Laurie, Peggy, Hazel, Donna and anyone else that would want to join us on Monday mornings at the church from 10a.m.-12noon.
We love to teach anyone that would like to learn to loom and we are always willing to accept donations of yarn. We are always looking for more places to donate hats as an outreach to meet physical needs and to be ambassadors for Christ.
Knitting Group

Knitting Group

Knitting Group

Laurie, Diane & Sandi

Donna

Kathy & Diane

Winter Hats

Maxine Littlelamb

Ray with Hat

400+ Hats for H.O.P.E

Reverend Nathaniel Bishop & Ray

Sandi (Mother Daughter Banquet 2007)
Send inquiries and comments by clicking here.